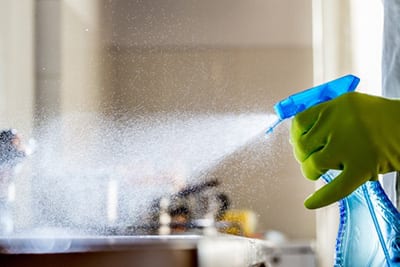 Have you ever noticed how many different cleaning products you have at home? How many of these household products don't work very well? How many cleaning agents have been so disappointing that you stopped using the product altogether?
Buying cleaning solutions can be expensive and frustrating. Every product out there promises to clean better and more efficiently than the next brand. Aren't you getting tired of trying out a product with the hope that it will do the job well? No one product does everything, but having the right cleaning agents available can make cleaning a breeze.
At Chet's Cleaning, we pride ourselves on offering several premium spotting agents that remove some of the most difficult stains. Research shows that consumers spend an average of $42.00 per month on cleaning supplies. Being disappointed with the effectiveness of a cleaner increase the amount you will need to spend looking for a better product. Who wants to spend the time and expense testing out one product after another in hopes of finding something that works well?
Stain removers are some of the trickiest products to buy. They might promise to take care of difficult stains, but how many of these stain removers actually work as well as you would hope?
Over the last few years, Chet's has done extensive testing on spotting solutions. We tested for color loss, how well our solutions would take out older stains and we tested every type of stain we could think of from gum and tar to juice and dye.
Chet's Cleaners offers a Spotting Solution Kit for $99.99. Does your stain remover get these stains out effectively?
Beer Berries Blood Butter Candle Wax Candy Chewing Gum Chocolate Chalk Coffee Cooking Oil
Crayon Dirt Dyes Feces Fruit Juice Furniture Polish Grease (Food) Grease (Auto) Glue (White)
Glue (Hobby) Ice Cream Ink (Ball Point) Marker Ketchup Kool-Aid Lemonade Lipstick Mercurochrome
Merthiolate Milk Mixed Drinks Mud Mustard Nail Polish Paint (Latex) Paint (Oil) Pet Food Shoe Polish
Soft Drinks Tar Urine Vomit Wine Unknown
Our Spotting Solution Kit comes with 5 types of stain removers, an addition sprayer for rinsing, pultice powder, and four white cotton towels. Please be aware that some damage could occur to carpet or upholstery depending on the material it is made out of. For preventative measures, always pretest your spotting solution or rinse agent in an inconspicuous area before attempting to clean the stain.
For more information on our Spotting Solution Kit, please call: (800) 404-0017