Step 1 (P,G) Preparing Your Home
We will move your items with care and will also protect any areas we work in or around. (Prevents damage to your home and other furnishings).
Step 2 (P) Loosening the Deep Down Dirt
Pre-grooming matted and crushed carpet opens the pile and loosens deeply embedded abrasive soils and contaminants. )Helps remove allergens and unhealthy contamination by 50%).
Step 3 (P,G) A Thorough Vacuuming… Is a Must!
Many soils are nearly impossible to remove when wet. This can remove nearly 80% of the soil in your carpet. Hidden contamination is removed, ensuring cleaner carpet that stays clean longer and extending its life.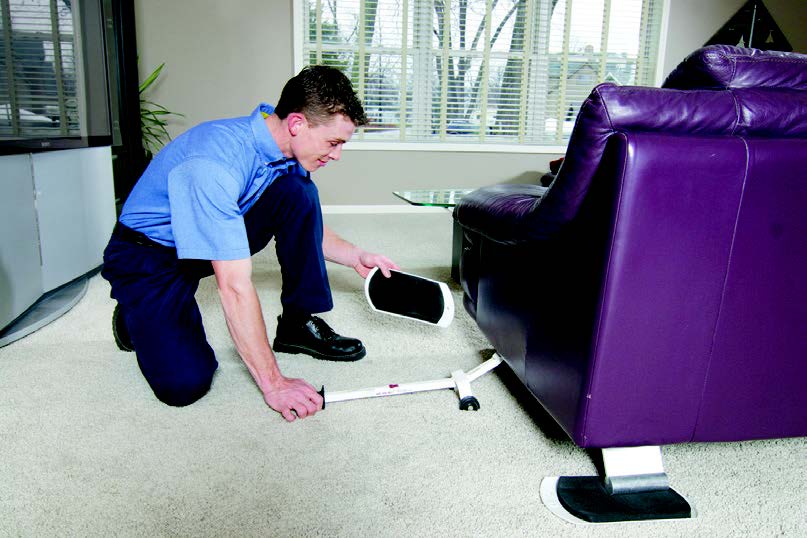 Step 4 (P,G,S,B) Breaking Down the Soil and Spots Sticking to Your Carpet
We use a "green", heated pre-conditioner to break down the spots and soil. Many cleaners use harsh chemicals or skip this step. Ensures spots, stains, and soil are removed.
Step 5 (P) A Little More Agitation
Grooming the preconditioner in helps detergents work deep down to loosen any stubborn spots or soil. We are more successful than other firms at removing stubborn stains and deep down soil.
Step 6 (P,G) Moving Furniture
We move most furniture and use special tools so that it's gentle on your furniture and carpet. Ensures ALL of the carpet is cleaned, giving you a healthier home!
Step 7 (P,G,S) Washing the Edges and Corners
Special cleaning solutions are used to breakdown the difficult soil that collects in the edges and corners. Do you have any dark lines around your edges? Helps remove mild filtration lines and soil.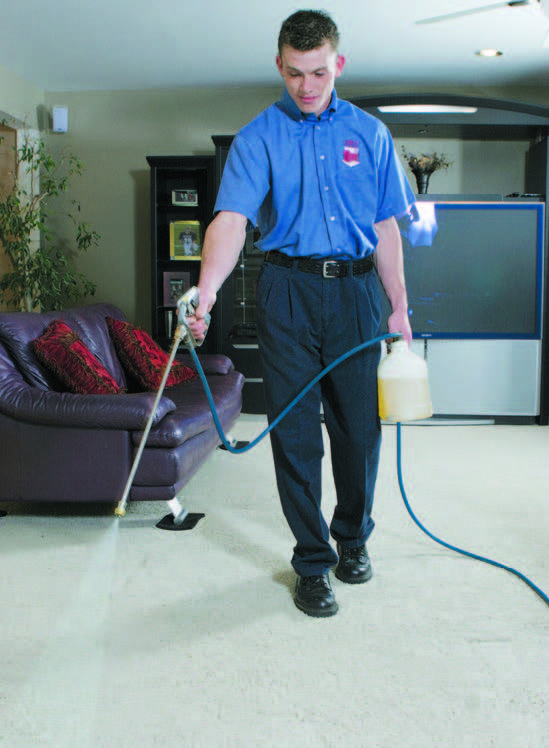 Step 8 (P) Hand Brushing Edges and Corners
Additional help to loosen stubborn soil, lint and filtration line build up.
Step 9 (P,G,S,B) Rinsing your Edges and Corners of Soil and Detergents
We remove up to 6 times the soil compared to competitors. No other company gets better results than us for filtration lines. Your edges match the rest of your clean carpet.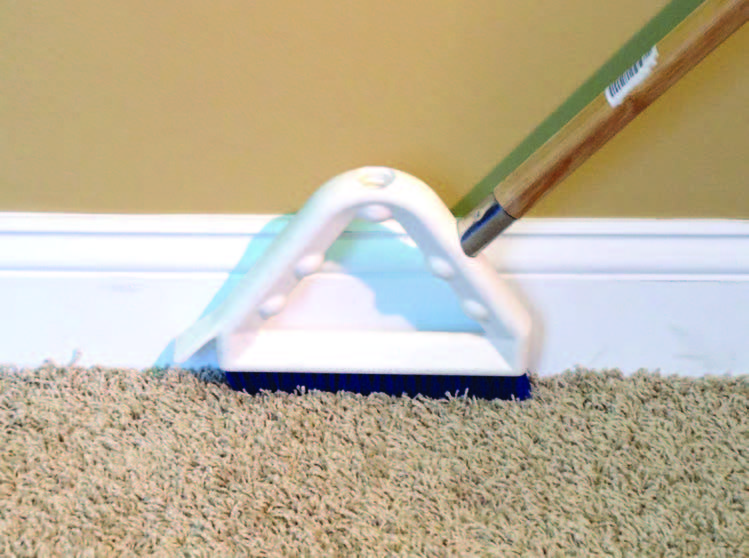 Step 10 (P,G,S,B) Rotary, Low Pressure Steam Extraction
A low pressure, neutralizing steam rinse combined with rotary extraction is 5 times more effective than a manual wand. Gently removes more contamination, soil, residue and moisture than any other method. Carpet is residue free making it cleaner, healthier and help keep up its beautiful appearance.
Step 11 (P,G,S) Time to Dry
We use high velocity air movers to speed up the drying process. Gets your life back to normal, and allows us to clean very soiled areas multiple times when needed.
Step 12 (P,G) Getting Your Home Back in Order
Furniture is returned where you want it. Then we place protective blocks or tabs beneath it. We save you time and furniture doesn't stain freshly cleaned carpet and you don't have to move furniture back.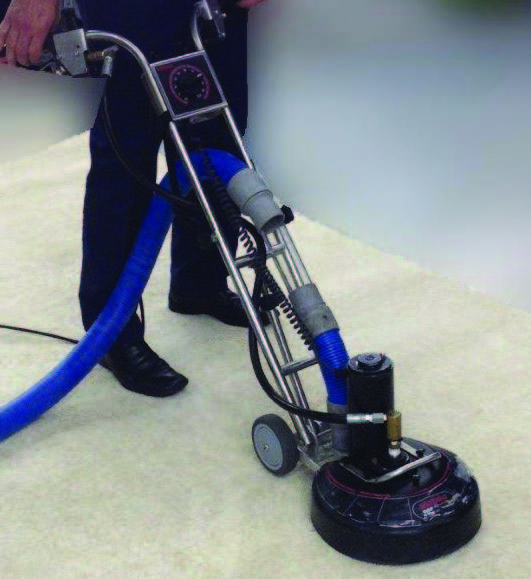 Step 13 (P,G,S,B) Checking Our Work
We take great pride in our work, so we inspect our results with you. We want to make sure that all of your concerns have been addressed and that you are delighted with our service.
Step 14 (P,G,S,B) Final Grooming
We will groom your carpet to restore its natural appearance and softness everyone loves.
Optional Step: Specialty Spotting (possible additional cost)
We are stain removal experts and can remove many stubborn stains, however; there is some risk when using advanced techniques. If a stain is not safely removed, we will consult with you and have you sign a waiver to proceed with a more aggressive approach. We look for your permission to take risks, so you can be at ease with our processes.
Conclusion:
Carpet has been cleaned of unsightly soil and stains. Dangerous hidden contamination has been removed and no unwanted residue is left behind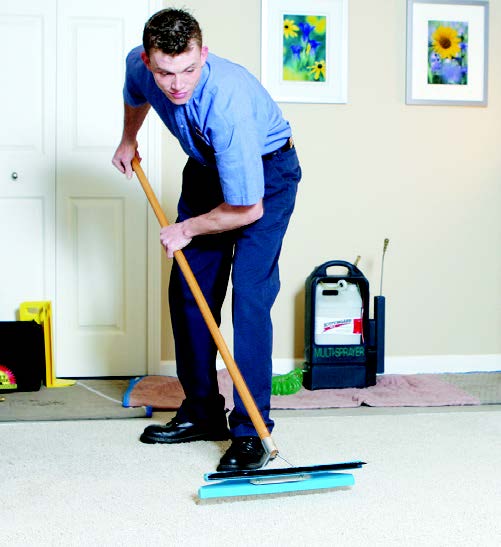 4 Critical Factors You Must Know Before Letting Anyone Clean Your Carpet
1. "EPA Declares DIRTY Carpets, Rugs and other soft surfaces a Health Hazard"
Carpet and furnishings collect and contain harmful bacteria, soil, dust, pollen, and other HARMFUL bio-contaminates. The EPA suggests carpets be cleaned every 6 months to eliminate these hazards. They also found truck-mounted, hot water extraction can be up to 15 times more effective compared to vacuuming every day.
2. Insist on IICRC Certified Firm and Certified Technicians that actually FOLLOW OR EXCEED THE GUIDELINES FOR PROFESSIONAL CLEANING.
The mission of the IICRC is to "identify and promote an international standard of care that establishes and maintains the health, safety and welfare of the built environment." However, because there is no regulatory body for this organization, many companies do not follow industry standards. Improper cleaning leads to damaged carpeting and premature replacement costs.
3. Exceptional cleaning requires proper and well-maintained equipment.
Only the most OUTSTANDING cleaning firms invest its' resources in the best equipment and ensure proper maintenance so that each service is performed safely and professionally.
4. Beware of dishonest companies that don't look out for your best interests.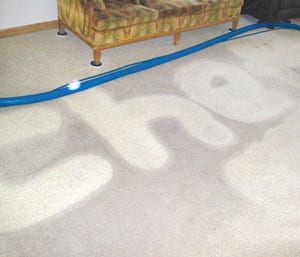 With any service, consumers should be wary of "Bait and Switch" pricing tactics and unscrupulous business practices. Do these "cheaper" companies perform employee background checks, drug screening, and have proper liability insurance? Do they use harmful products on your goods because they got them on sale, or do they use plant-based products that protect the environment? Do they unnecessarily clean items to make a quick dollar, or do they give an honest opinion and advise replacement of goods if they are too far damaged? Residential carpeting is usually the 2nd or 3rd largest investment in a home, maybe the question should be: why would I use a company based solely on cost?
Compare Us With Other Cleaners
Do they clean according to IICRC standards?
Do they rake and pre-vacuum to remove deeply embedded soils?
Do they move furniture as part of their service?
Do they pre-condition your carpet, especially areas that soil heavily?
Do they hand scrub hard-to-reach areas like edges and borders?
Do they steam rinse to remove and neutralize any residues that may be left in your carpet from the previous cleaning?
Do they use carpet dryers to return your carpets to use as quickly as possible?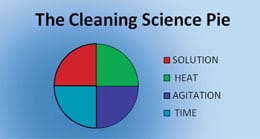 Do your previous cleaners understand the cleaning science pie and how to adjust it as necessary?
All of our cleaning steps are done for a reason. Eliminating or altering these steps could have serious repercussions on the results you see.
How Soiling Damages Carpet Appearance
Carpets are made of tightly twisted tufts of fibers. Soiling, accumulation of microscopic grit on fibers, combined with foot traffic to scratch away your carpet's beauty. Periodic professional cleaning by Chet's prevents this gritty buildup. Like rubbing a mirror with sandpaper, light no longer reflects uniformly from scratched fibers. This gives your carpet a dull and gray appearance. Factory-applied soil protector is also damaged.
This is why carpet warranties call for professional carpet cleaning once every 18 months. It is also why Chet's is licensed to apply America's leading soil protectors.
Why Chet's Step-By-Step Carpet Cleaning Is So Important
Chet's step-by-step professional cleaning rigorously follows industry standards set by carpet mills, the professional cleaning industry, and public health agencies. This assures you of clean, beautiful, and resilient carpets, as well as, a healthy home.
Our system ensures that more allergens, mold, bacteria, micro-organisms, and soil are removed than by any other method or system while leaving your carpets residue-free. We also take every precaution to protect your home by using:
Hose stakes to protect your lawn and plants
Walk-off mats to protect your foyer
A door guard to keep unwanted pests out and to maintain the temperature in your home
Corner guards to protect the corners of your walls from chips and scratches
Moving blankets to protect your hard surface floors
We employ the finest equipment and top-shelf solutions, but it is our highly trained and motivated cleaning technicians that produce our far superior results.
Chet's 14 Step Carpet Cleaning Process
Having Chet's follow these steps will lead to the MOST OUTSTANDING experience you have ever had in your home from any service company while bringing your carpets back to life and to their fullest beauty.
Chet's 7 Step Stair Cleaning Process
Chet's thorough step-by-step cleaning process is applied to carpeting on your stairs in the same sequence of steps that it is applied to your rooms.
Carpet Protector
Always have a protector applied to your carpet when it is cleaned. Textiles that are not protected are prone to premature soiling, permanent stains and ultimately a shorter life. Chet's Cleaning is licensed by both 3M and Dupont and offers a 1-year written warranty with the application of Dupont Advanced brand.
Specialty Spotting
We have the expertise to safely remove many stains that other cleaners leave behind.
Pet Odors
Spots, stains, and odors caused by pets are safely removed. Ask about our pet odor removal guarantee!
The Always Clean Advantage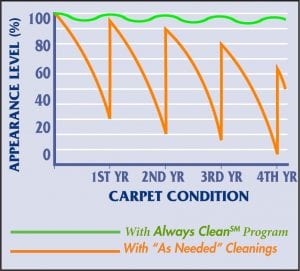 Chet's Always CleanSM program prolongs the beauty-life and wear-life of your carpets by preventing the extreme soiling conditions that can endanger the health of your carpets.
Protects manufacturer warranties and dramatically extends the life-span of carpeting
A healthy home! Research points to allergy, asthma, cold, & flu can be caused by carpets not being maintained on a timely schedule. Carpet fibers are meant to trap the bacteria & allergens that cause humans to get sick; proper & timely cleanings can prevent these illnesses.
Extremely convenient.
Monthly payments to ease budget concerns. We can automate credit card payments or you can choose to send in a monthly check, whichever suits your needs.
We call you! No more worrying about another appointment you don't' have time to make!
Mattresses, upholstery, area rugs, and much more can be added to the program.
The carpet always looks great! No more dingy traffic patterns or unsightly edges. The carpeting in your home will be maintained to the highest standards.
An additional 10% discount on any services you have us perform the day of your always clean appointment.
Significant savings for emergency spot cleanings for always clean clients only.