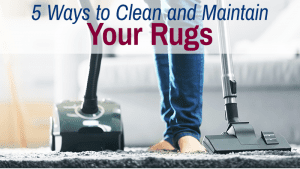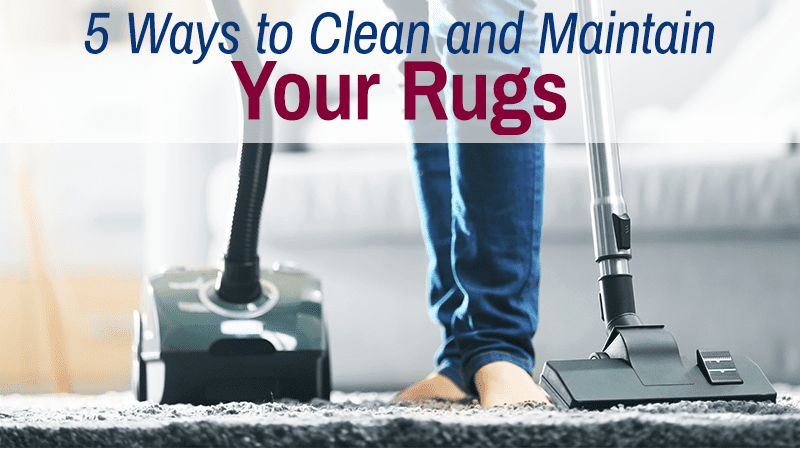 Your rugs work hard. Whether they're bold statement pieces or more laid-back neutral designs, rugs add warmth and coziness to your space, soften the look (and sound) of your room, and help create your home's personality and design flair. So it makes sense to treat your rugs with care and take the steps you can to extend their usefulness. Here's what you can do to extend their life and keep them looking as good as new.
1. Vacuum Regularly
A good-quality vacuum will help keep your rug free of dust, allergens, and both seen and unseen debris. It might seem like a no-brainer, but if it's not part of your routine, make sure you give all the rugs in your home a pass with the vacuum at least once a week; more often if you have pets or children.
2. Have Rugs Professionally Cleaned
Vacuuming is crucial, but it's not nearly as effective as professional cleaning to keep your rug looking its best. About once a year, invest in professional rug cleaning to ensure that your rug stays looking and smelling great. This isn't an area you want to skimp on, especially if you have high-end oriental or specialty rugs; go with a cleaner who knows the ins and outs of rug cleaning, not a DIY carpet cleaner.
3. Rotate it Regularly
You've heard that you should flip your mattress regularly to help promote more even wear and tear, right? The same goes for rugs, especially those in high-traffic areas. Rotating your rugs once every month or two helps distribute the rug's wear more evenly, so they'll look fresh for far longer. Rearranging your furniture to create different traffic patterns also helps.
4. Use Padding Underneath
Much like the padding beneath the actual carpet, rug pads add a touch of cush, keep your rugs smooth and wrinkle-free, and help prolong the rug's life by absorbing some of the friction of each footstep.
5. Spot Clean Any Stains ASAP
Accidents happen. When they do, cleaning it up immediately is the best way to help ensure that stains don't become permanently set in the fibers. Take special care with oriental and wool rugs, because cleaning solvents can break down the colors and fibers quickly. Try using a damp cloth with just water instead, and if that doesn't work, contact a pro. For synthetic rugs, a gentle carpet cleaner can help lift stains but make sure to follow any instructions on your rug's tags before you try it.
If it's time to have your rugs professionally cleaned, contact us at Chet's Cleaning. We'd love to help ensure your rugs get the specialty care and deep cleaning they need!