This Service is for You if:
Your wood or laminate floors need brightening and are lifeless.
You want the finish sealed for easier cleaning.
You don't want costly and messy refinishing as often.
The original finish is not worn all the way through.
There are light scratches and scuffs that don't penetrate the raw wood.
Your floors are not completely faded.
Critical Questions to Ask When Selecting a Wood Floor Cleaning Service
Is their system dustless?
How quickly can the floor be used?
Is it safe and non-toxic?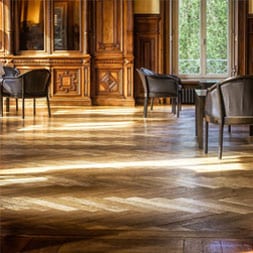 How To Maintain Your Floors – Daily Mopping
How To Maintain Your Floors – Heavy Duty Mopping
Wood Floor Cleaning Products