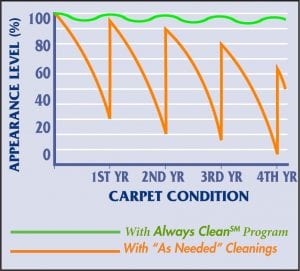 Chet's Always Clean program prolongs the beauty-life and wear-life of your carpets by preventing the extreme soiling conditions that can endanger the health of your carpets.
Protects manufacturer warranties and dramatically extends the life-span of carpeting
A healthy home! Research points to allergy, asthma, cold, & flu can be caused by carpets not being maintained on a timely schedule. Carpet fibers are meant to trap the bacteria & allergens that cause humans to get sick; proper & timely cleanings can prevent these illnesses.
Extremely convenient.
Monthly payments to ease budget concerns. We can automate credit card payments or you can choose to send in a monthly check, whichever suits your needs.
We call you! No more worrying about another appointment you don't' have time to make!
Mattresses, upholstery, area rugs, and much more can be added to the program.
The carpet always looks great! No more dingy traffic patterns or unsightly edges. The carpeting in your home will be maintained to the highest standards.
An additional 10% discount on any services you have us perform the day of your always clean appointment.
Significant savings for emergency spot cleanings for always clean clients only.