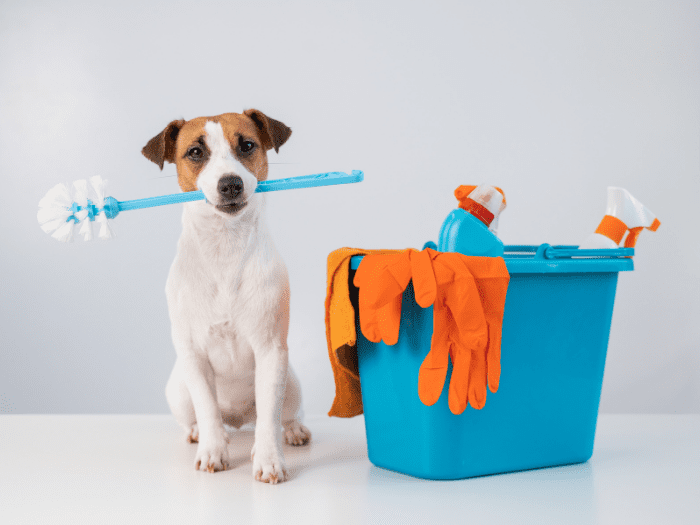 Pet Safe Cleaning Service
If you're living with pet odors and stains, it's more than just inconvenient. It could be affecting your well-being. Unfortunately, many people with pet odors don't realize they have a problem until they go away for a time and come back or if a guest mentions the odor. Living with odors, we often become immune to them and don't notice them.
If you have a pet odor or stain problem, you can protect the air quality and prolong your carpet investment in your home with our Pet Safe Cleaning Service from Chet's Cleaning. Our cutting-edge products can tackle virtually any odor, giving you back the fresh, clean air and carpet you and your family deserve.
FREE $20 Pet Stain Remover Bottle with These Services!
Soil, Hair & Body Discharge Analysis ↗
First, we'll find any hidden urine stains. Many urine deposits are invisible or hard to spot with regular lighting. This can make it difficult for homeowners to detect the source of urine odors.
Pet Friendly – Dry Soil, Hair & Dander Extraction ↗
Next, we'll deep clean your carpets, most carpet cleaners use a deodorizer to hide the urine smell. However, they skip a very important step which is removing the urine! For proper odor removal, Chet's Cleaning will remove pet urine the right way to get the job done correctly!
Pet Friendly Odor Treatment ↗
Lastly, we treat the odors. The odor removal product we use is a blend of specially formulated enzymes and naturally occurring ingredients that bond to and neutralize odor particles.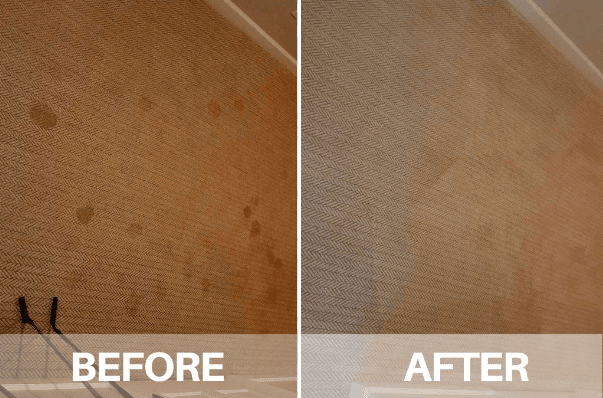 REASONS TO GET YOUR CARPET CLEANED AFTER ACCIDENTS
The urine absorbs all the way to the sub-floor and causes damage and smell.
The urine stain on the carpet is only the tip of the iceberg to what's underneath.
You will save money on your carpet investment if you get it cleaned thoroughly.
The growth of bacteria and other microorganisms.
The potential for dangerous mold to grow.
The expense of replacing a rotting subfloor.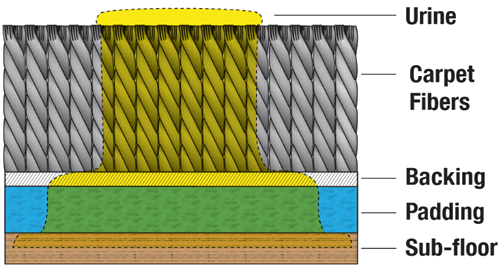 FAQS
Why Should I Have My Carpets Cleaned?
Your carpet's life can be extended just from a routine professional cleaning. Many carpet manufacturers require this when it comes to satisfying the integrity of their warranties. When cleanings are avoided, your susceptible to holding in even more dust, dirt, dander and allergens. Getting regular cleanings can restore the original look and luster of your carpet.
Why are Pet Accidents Happening?
Doesn't know better- When potty training, timing is very important. Unless you actually catch him in the act, punishing him for a puddle of urine in the carpet is not going to teach him anything. This might teach them to be fearful of urine spots but it will not teach your pup to go outside.
Isn't taken out often enough- New puppies need to go outside often. Experts say after every meal, drinking, active play, napping, and after being left in the crate. Adult dogs need to be taken outside around 5 times per day with no more than 6-8 hours in between.
There is some sort of health issue- Unfortunately, we don't have a lot of ways to communicate with our doggos. If there is something internally wrong, they have no way of telling us. If your dog is a fully potty trained adult and randomly starts going inside there might be a health issue. Issues like diabetes, kidney problems, or bladder problems should be checked for.
How Do We Get the Urine Out After The Pets Have An Accident?
The problem with pet urine is that it's not just in the carpet fibers but it's also in the padding. The spot may look small on the surface but down below it spreads out. Experts say the urine in the padding is spread out two and a half times more than the spot above. This can make it very hard to remove all of the urine from your carpet on your own.
Why Professional Carpet Cleaning Is Necessary to Remove Pet Odors?
Before calling on a professional, you may be tempted to try to deal with a pet accident on your carpet using some DIY hacks. However, anything more than blotting the area with a white cloth as you pick up the phone to schedule a carpet cleaning session may do more harm than good. Many store-bought stain removers can wreak havoc on the texture and color of your carpet. Moreover, they are often full of chemicals you don't want to use around your pets. And while store-bought deodorizers may be less corrosive than stain removers, they typically only mask odors with strong perfumes rather than eliminating the odor at its source.

I have been using Chet's for all of my cleaning needs since my designer referred me. I never realized how quickly my rugs were getting soiled until I started getting them properly cleaned. I had Nicole today and I was so pleased with the outcome of the cleaning. All of the pet stains were removed, and my rugs were white again! -M.k. Kelkar
The two techs that worked on my carpets, Jerelle and Ashely could not have been more awesome! They were professional, tidy, clean AND very nice! They did a great job and I feel like they went above and beyond to make sure my pet spots and stairs were perfect! I always recommend Chet's and these two especially! -Patrick Baker
We have been Chet's customers for over 10 years and have always been impressed with their service and level of skill. You do get what you pay for when hiring a professional cleaning service. Zach took his time cleaning our carpets and tile and the results were better than expected. -D. Wegner