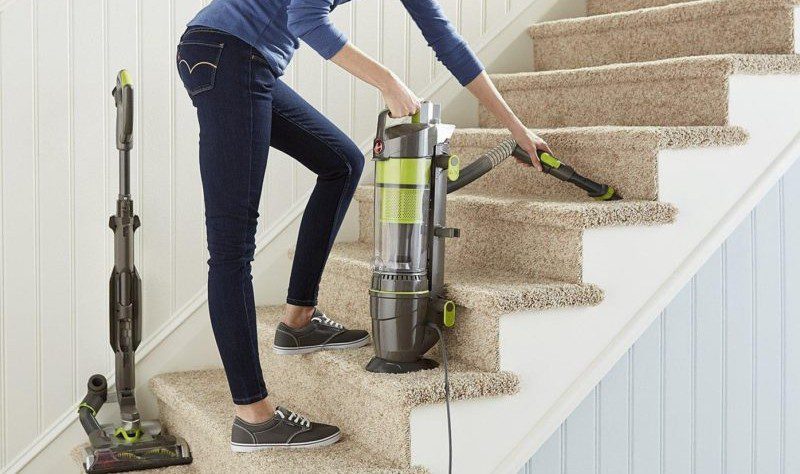 The best way to clean carpeted stairs depends on what resources are available for cleaning them. Though for many the easiest and best way to clean carpet on stairs involves calling out a professional carpet cleaning company, this may not always be feasible. However, using what's available, along with a bit of hard work, can still result in brightening and removing stains from a carpeted stairway. Searching for the same powerful stain spotter our techs rely on daily? Check out this daily spotter today for a spotless carpet transformation!
Best Products to Use on Carpet and Stairs!
Best Way to Clean Carpet on Stairs by Hand
Cleaning carpet by hand takes a lot of hard work, but it tends to be less costly. It also often beats mechanical means for getting out the most stubborn stains. And, as an added bonus, there are a few old-fashioned yet natural methods for getting carpeted steps clean.
Here are a few of the best ways to clean the carpeting on stairs by hand:
Using a stiff brush or broom regularly to remove dust and debris from carpeted stairs will reduce the need for deep cleaning as often. Simply sweep the stairs from top to bottom, so as not to trample in dirt, until there's a pile of dust and particles at the foot of the stairway. Once there, simply brush the pile of dust and debris into a dustpan.
Though it takes more effort, perhaps the best way to clean carpet on stairs to remove stains involves carpet shampoo, a cloth, and a brush. Mix the carpet shampoo with water, scrubbing this mixture into any stains with the brush, but be careful if you have wool carpet you need to avoid any rubbing or scrubbing. Use the cloth to soak up the water and shampoo mixture, blot or stand on the towel to absorb the moisture. Once dry, the stain will have vanished. For those unfamiliar with the best carpet shampoo to use, contact a carpet cleaning company for advice.
Dawn dish soap can also be used as a carpet cleaner. To clean using this method requires a 4oz of Dawn dish soap and a gallon of warm water, along with a bucket, dry towel, kneepads, bucket, and soft bristle brush. Fill the bucket with Dawn and warm water. Don't use too much soap, as otherwise the carpeting on the stairway will become soapy. Starting at the top of the stairway, dip the brush into the solution, scrubbing each step with the brush until reaching the bottom. Use circular motions, especially on any stains, to lift dirt out and remove stains. If you have wool carpeting spray and blot the steps avoid agitation.
To rinse detergents out of the carpet you can use a quarter cup of white vinegar and about a gallon of water, along with a bucket to hold the solution, a soft brush for scrubbing, and remember do not scrub wool carpeting, and a towel. Mix these two ingredients in the bucket or fill a quart bottle then, starting at the top of the stairs, work this solution into each step with the brush or just lightly spray it with the quart bottle. Use a combination of horizontal, vertical and circular motions when and if agitating to penetrate deep into the carpeting. Be careful not to use too much water, as this can cause mold or mildew to develop. Refill the bucket with fresh, unheated water. Dip the towel into the water, wringing it out before using it to wipe down the carpeted steps. To help speed up drying, use a fan and keep moisture low!
Best Way to Clean Carpet on Stairs Using Machinery
As with any type of work, automation tends to make it easier. The best way to clean carpet for those who don't relish hard labor will involve either vacuuming or steam cleaning. Maneuvering a machine on steps, however, can be a bit of a challenge so lighter, cordless machines work best. Here are two methods for cleaning the carpet on stairs via mechanical means:
Cleaning carpeting on stairs with a vacuum can make the task easier. A lightweight and handheld vacuum powered by batteries is best for cleaning carpeted steps, as there's no cord to get in the way and it's easier to maneuver. Yet a vacuum with a long cord can work as well. Great care should be taken to prevent either the vacuum or cleaner from falling. First use a brush attachment to scrub each step, then a hose attachment to suck up the dust and debris this scrubbing will dislodge from the carpet's fibers.
To achieve a really deep clean on carpeted steps requires a steam cleaner. Often these can be found at a hardware store or other retail outlet that specializes in renting such machines. Steam cleaners can make carpeting look spotless. It removes stains, extracts dirt, gathers up pet hair and otherwise makes carpeting look clean and spotless.
Combining Techniques: Best Way to Clean Carpet on Stairs
A tried-and-true method for cleaning carpet on stairs can be found in our 6 steps to cleaning carpeted stairs blog post. In a way, this may actually be the best way to clean carpet on stairs. This combination of different methods can make carpeted steps look nearly immaculate.
This is a particularly effective way in which to clean carpeted stairs:
Use a scrub brush or stiff broom to loosen debris and dirt within the carpeting's fibers, starting at the top and working towards the bottom, while also paying attention to the corners and edges.
Suck up the loosened dirt with a handheld vacuum, or one with brush and hose attachments, starting at the top and going down to avoid trampling in dirt.
Apply carpet shampoo across the carpeted steps by hand with a soft scrub brush.
Work the shampoo into the carpet's fibers, particularly in areas that have stains or which look particularly dirty.
Remove excess water either with a wet/dry vacuum designed for sucking up liquids or soaking up the water with a towel.
Ensure the carpeting gets as dry as possible so as to prevent mildew or mold from forming.
Allow the stairs to dry naturally for about half a day.
Once the stairs are completely dry, do a final vacuuming.
If you live in the metro Detroit area and need advice on the best way to clean carpet on stairs contact the experts at Chet's Cleaning today!