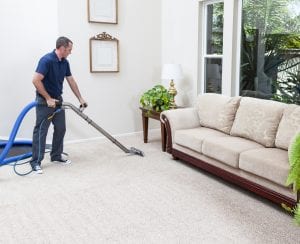 That groundhog lied again! With this latest blast of cold, wet weather, our Michigan homes are suffering with us. Taking care of your carpets is important in all weather conditions, but rain and snow require even more attention. During the winter months, cold precipitation brings more dirt and debris into the home and carpets can take a beating.  
As we apply salt to keep the sidewalks clear, we may be adding more grime in the home. Winter ice melt products cause even more soiling from two product families:
Salt: Traditional salt could make your carpets dry slower because it pulls moisture from the air. The damper the carpet, the more easily it collects dirt.
Calcium Chloride: These blue or white pellets also

give off heat as they dissolve, therefore melting more ice faster at lower temperatures. Unfortunately,

it also leaves an oily film, which attracts even more soiling.
These salts will mix with snow and water and dry with difficult white stains on carpets. The resulting high alkaline content can cause physical damage beyond staining; these corrosive reactions may cause the fibers to weaken.
Caring For Your Carpets
A regular cleaning schedule can lengthen the carpet lifespan;  excessive wear and tear can shorten it. Over time, dirt, sand, dander, bacteria, and other chemical residues can also accumulate to create an environment of disease.   
Keep outside dirt outside.

More than

80 percent

of the soil and moisture on the indoor carpet is tracked in from your family and pets. Keep front steps and mudrooms clean so that less dirt ends up inside.

Use doormats. Either 1) invest in durable, high-quality mats and keep them clean or 2) buy cheap ones and replace them often. But clean them every week.

Vacuum all high-traffic areas, entries, and main hallways more often (for less time spent on general cleaning.) Vacuuming not only removes dry soil, but it also keeps it from becoming airborne and spreading on surfaces.

Use efficient vacuum cleaners with HEPA air-filtration systems to help keep the indoor air clean and healthy.

Have a spot-removal emergency kit near the front door. When you see a stain, hit it immediately with a spray.

Focus on the lower floors first. Spend more time and effort cleaning and vacuuming lower floors. Soil removed on the lower floors has less chance of traveling upstairs to the bedrooms, or downstairs to the basement.

Deep clean with hot-water extraction. Hot-water extraction is generally recognized as the best way to revitalize and deep clean carpet. Heat is essential in all cleaning. To be most effective, the carpet cleaning solution should be at least 212 degrees Fahrenheit at the wand tip. As a general guideline, hot-water extraction should be carried out two to three times per year depending on traffic area and use.
Professional
Carpet Cleaning in Grosse Pointe
Weekly vacuuming with a quality machine is the best way to maintain your carpets. Every year or so, have a competent and experienced team come into deep clean and sanitize with professional equipment. Chet's Cleaning takes every precaution to protect your home from anything mother nature gives us. Chet's has served the Grosse Pointe area since 1986.  We have the experience needed to solve your carpet cleaning needs so contact us today!