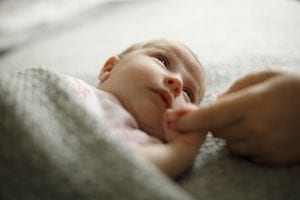 Make Sure You Are Prepared – Call Our Team For A Free Estimate!
Having a baby is a wonderful experience, but it also means there are some tasks that you have to get done before it's time to bring the baby home. The first step is to furnish and prepare the nursery. Baby proofing your home is the next step, which typically includes ensuring the electrical outlets are covered and storing cleaning supplies in a locked cabinet. About a month before the time of your baby's arrival, you should clean and organize your house as well. A deep cleaning before baby's arrival means they will come home to a clean and healthy environment. So, exactly what are the most important areas to clean?
Dust and Cobwebs
Newborns are typically sensitive to dust, so it is important to thoroughly dust everything, including the picture frames, collectibles, and furniture. Remember to clear the cobwebs away from the ceilings and baseboards as well. Electronics are notorious for collecting dust, so don't forget to clean behind televisions and computers to ensure they are dust free. Also, remember to change the furnace filter about one week before your baby's arrival.
Furniture
Upholstered furniture should be thoroughly cleaned in preparation. If someone in your home smokes, make sure to enforce the no-smoking indoors rule; you should do a thorough cleaning of the rooms where smoking occurred, especially upholstered furniture and curtains. If possible, have a professional cleaning company steam clean upholstered furniture to ensure it will be clean, disinfected and fresh when your baby comes home.
Kitchen Area
Whether you are bottle or breastfeeding, it is important to have a clean area to prepare bottles. Designate an area in the kitchen that will be used primarily for the preparation of your baby's bottles. Be sure to deep clean the countertops, wipe down the cabinets and drawers and appliances. This area should also be disinfected regularly to prevent the risk of contamination of baby's food while you are preparing meals. Clean out the refrigerator and designate a spot just for baby's items.
Clean the Carpets
Regardless of how thoroughly you vacuum, carpeting works like a filter when it comes to collecting dust, dirt, pet dander and other debris. It is best to have the carpeting professionally cleaned and sanitized to ensure they are safe. If you choose to clean the carpet yourself, it is important to use the method recommended by the manufacturer, which is typically steam cleaning. Avoid using strong chemicals when cleaning the carpeting and it is best to avoid using powered carpet fresheners as well, as these can often cause a cloud of dust that may be harmful to the baby.
When it comes to cleaning your house before the new baby arrives, it is best to take your time, working in one room at a time. Start with the rooms that are the least likely for your baby to spend a lot of time in, such as the home office. Deep clean each room, but remember to take frequent breaks to avoid overdoing it and avoid cleaning with harsh chemicals. Instead, consider making your own safe, homemade cleaners that include ingredients, such as vinegar, baking soda, and lemon juice.
Is it getting closer to your baby's arrival? Contact Chet's Cleaning so you'll
have one less thing to worry about.