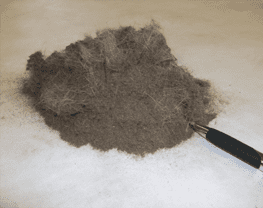 Dry soil removal is vitally important!
A 9×12 rug can hold over 90 pounds of soil without looking dirty.
This soil is abrasive and cuts away the fibers every time you step on your rug.
This soil contains harmful chemicals, bacteria, mold, pesticides, herbicides, and many other dangerous contaminants.
Most professional cleaners don't follow the "IICRC or ARCS Cleaning Standards". Both of these organizations insist that Dry Soil removal as the first step is essential to properly cleaning rugs and textiles
Once these soils become wet they act like cement and are almost impossible to remove.
Pictures below are of the actual soil we removed from two separate rugs. One rug was cleaned by the largest rug cleaner in Metro Detroit and the other rug was cleaned by another well-known rug cleaner in our area. Both rugs were just cleaned and both had pet contamination that the cleaners knew about and charged extra to remove. Both rugs still smelled and had stains left behind. Most professional cleaners don't follow all the proper steps to remove as much soil and contamination as is safely possible.
Needless to say, the client was delighted at how much cleaner, brighter and softer her rugs were when we were done. They were odor-free and the stains were almost invisible.