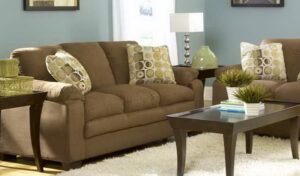 My parents have this purple lazy boy recliner that has been in the family since I can remember. It is the chair we all choose when we are feeling sick and under the weather. It was the go-to chair for every one of my mom's pregnancies. Even now when I go home to visit, it's nice to just curl up and take a turn in the chair. It's safe to say the chair has been well-loved and used and well… it may be a bit dingy and gross too. However, it doesn't have to be the end of that chair. It would be a shame to get rid of it. With proper furniture cleaning tips, it will look brand new and still be there for any who wish to feel comfortable in cozying up on it.
What Furniture Cleaning Entails:
I grew up learning to vacuum out the couches, dust the wooden chairs, and clean under the cushions but after so long that doesn't really cut it. No matter how hard you try, eventually, the wear and tear of using the furniture will show through. A proper furniture cleaning may be just what the furniture needs to sparkle once again. There are professionals who have the proper training and equipment to clean your furniture. This is a multi-step process to ensure that it is done correctly. 
The Steps:
This involves first testing the fabric. I am not an expert in washing my clothes let alone furniture that is made out of all sorts of different materials. They do this to know what cleaning products are okay to use on the fabric. This is the precursor to actually cleaning. Many fabrics can be very delicate and some cleaners may cause serious harm to them so it is important to know if the furniture company you choose takes this necessary step. Once this is done, cleaning can occur, first with a dry soil cleaning which involves thoroughly vacuuming the furniture. The preconditioning can follow which consists of different cleaning agents (depending on the material and the amount of stain/dirt that needs removing). Washing comes next, where the cleaning agents can be agitated further into the furniture to get the best result. It's important to remember that not every stain is removable but the furniture cleaning company you choose can do their best. 
Your furniture will be thoroughly rinsed without wetting the furniture too much and dried efficiently with air movers placed on each piece of furniture. This completes the cleaning process! Your furniture can come out with a new shine, giving your furniture the perfect "pick me up" that it needed. This process, though it consists of several steps, doesn't take long. You won't be without your furniture for weeks or even many days. It can be done quickly so you don't have to go without for long.
Even if you don't have a beloved piece of furniture like my family, getting professional furniture cleaning services could save you from spending unnecessary money in the long run on brand new furniture, by extending the life of your current furniture. Living in the metro-Detroit area, it's nice to know what reliable companies are available to you. Chet's Cleaning is one of those that can have your furniture looking nice in no time – contact us today for a free consultation!