It may seem like a menial task to get a professional couch cleaning; however, routine cleanings of your upholstery can help them last longer and resist wear. Chet's Cleaning has been helping the community of Grosse Pointe save the quality of their couches and love seats for a long time, and we want to continue doing that. That is why we suggest a routine upholstery cleaning every 6 months to a year, depending on how much traffic your furniture receives.
Low-Traffic Furniture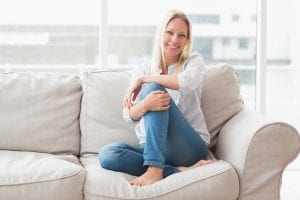 If your couches are rarely sat on, don't see traffic from animals and are less than likely to suffer from spills and stains, you probably do not need to have them cleaned every 6 months. But, your upholstery will still be affected by dust and dirt particles in the air, and any contact it has from traffic coming in – so a healthy professional cleaning by IICRC certified professionals every 12 months will help keep your upholstery in tip-top shape.
High-Traffic Furniture
Upholstery that sees a large amount of traffic will require a different cleaning schedule. For example, commercial buildings that have couches and chairs for clients to sit on will see a ton of different types of traffic. They may end up soiled by sweat, oils, dirt, bad odors, animal hair, and more. Even homes that have large families or see a lot of visitors are likely to have much more visits to the couches and love seats and will need to be cleaned more thoroughly, more often.
What if I Don't Clean My Furniture Regularly?
Irregular furniture cleaning isn't going to kill your furniture right away, but it can damage them more quickly. Couches that have been on the receiving end of animal or toddler urine are going to contain that bad odor and the awful chemicals that are found in urine. Spots and stains that have not been removed quickly will be harder to remove or may not come out at all. And the sweat and dander from normal human activity will embed in the fibers of the upholstery, diminishing the clean, vibrant look and feel of the upholstery. Unkept furniture often loses its aesthetic pleasure and becomes dull and often dirty-looking. They might hold in bad odors making an uncomfortable environment as opposed to a warm and inviting environment. Regular furniture cleaning will keep your couches and love seats looking and feeling better, but also help them maintain value if you decide to sell them later on or upgrade.
If you are looking at dull or dingy upholstery that would feel a TON better to lounge on with a complete professional cleaning, be sure to contact the amazing team at Chet's Cleaning in Grosse Pointe to schedule your routine cleaning today!