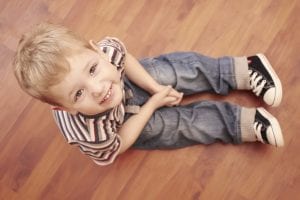 If you are a proud owner of pristine wood flooring, you know the great feeling that comes with gleaming hardwood. However, if you've had your wood flooring for as long as you can remember, it may be starting to look like your teenager's car. After years of use, hardwood flooring scratches, scrapes, and wears down. It also accumulates years' worth of leftover dinner and homemade jam. Gross, right? Since hardwood floors look best when they are clean and shining, here are a few tips on how to make wood floors look new again!
Simple Maintenance Tips on How to Make Wood Floors Look New Again
Clean up spills as soon as possible. Neglected food shouldn't be used as grout in the flooring.
Keep the dog's nails trimmed to reduce excessive scratching.
Take off your high heels at the door. (No one likes wearing heels in the house anyway.)
Place rugs and doormats at entryways and high-traffic areas. The more steps your wood flooring endures, the faster it will wear down.
Sweep every day (or at least several times a week) to remove dirt and dust. If left untouched, these abrasive particles will scratch the flooring with tiny gouges that become more apparent over time.
Use only a lightly damp mop, since sopping wet towels, mops, and paper towels are not wood-friendly.
Exercise caution when using chemicals. Many over-the-counter products damage your flooring. Call the professionals at Chet's Cleaning in Madison Heights to discuss floor cleaning options.
Cleaning Schedule
Wood flooring needs to be cleaned regularly (several times a week) to postpone regular wear and tear. In order to produce maximum results, it is advised to consult a professional wood floor cleaner in Madison Heights. Of course, we'd love it if we could maintain your floors with a scheduled cleaning, so call us if you're interested! In the meantime, here's the best way to maintain flooring daily, weekly, monthly, and yearly:
Daily Schedule
Dust lightly with a microfiber mop or cloth. Microfiber is effective because it uses static to trap dirt and dust particles.
As an alternative to the method above, you can use a broom, although brooms aren't as effective because they have a tendency to drag dirt instead of pick it up.
Spot clean as necessary. Whenever you or a family member spills, clean up the mess as quickly as possible. Don't forget to clean between the floorboards if your can. (If that is impossible with your flooring type, let Chet's Cleaning in Madison Heights help you out.)
Weekly Schedule
Vacuum or mop at least weekly.
To vacuum, remove the beater bar and ensure the wheels will not damage the flooring.
To mop, lightly mist the floor with a proven hardwood cleaner. Remember that wood and water don't mix! But if you must use water, use only a damp mop.
 Monthly Schedule
Polish every few months to protect, renew, and refresh your floors. Polish fills in microscopic scratches and reduces the beaten appearance some floors take on after years of use.
Deep clean the edges of your flooring as necessary with wood cleaner.
Yearly Schedule
Deep clean floors with a professional wood cleaning service in Madison Heights. With all of the abuse our floors handle, it's an investment to clean yearly. But don't take our word for it! Professionals in the industry also recommend regular deep cleanings. Buried stains will be uncovered and your flooring will look like new. So, if your floors receive a lot of love from your family, remember to contact Chet's Cleaning in Madison Heights.
Wood floors should be treated like a prized possession. Regularly cleaning, polishing, and dusting will help them maintain their mint condition. If you have any questions about wood cleaning or would like to schedule a cleaning for your home, give us a call today!