There is nothing more relaxing than coming home from a hard day at work and putting your feet up on the sofa to relax. The downside to this is that over time, even with just simple everyday use, your upholstered furniture will start to look dirty and worn. The good news is that with preventative care and maintenance, you can extend the lifespan of the upholstery and get the most out of your furniture. Here are a few tips on how to clean and maintain upholstered furniture.
Vacuum Often
To keep the dirt, dust and other debris from becoming embedding in the fabric, it is best to vacuum upholstered furniture at least once per week. If your furniture is upholstered in leather, you should dust it at once a week with a clean, soft cloth. It's also important to frequently check for loose threads, buttons, and trim and make repairs as necessary. Use the crevice tool that came with your vacuum to clean in corners and tight spots.
Stay on Top of Spills
Furniture is meant to be used, so it is only natural to expect that accidents will happen. When spills occur, it is important to clean them immediately in order to prevent staining. Use a clean, soft cloth to blot spills, never rub a spill because it will only push the liquid further into the upholstery. When using a spot cleaner, always test the product on a small, inconspicuous area before using on visible areas of the upholstery.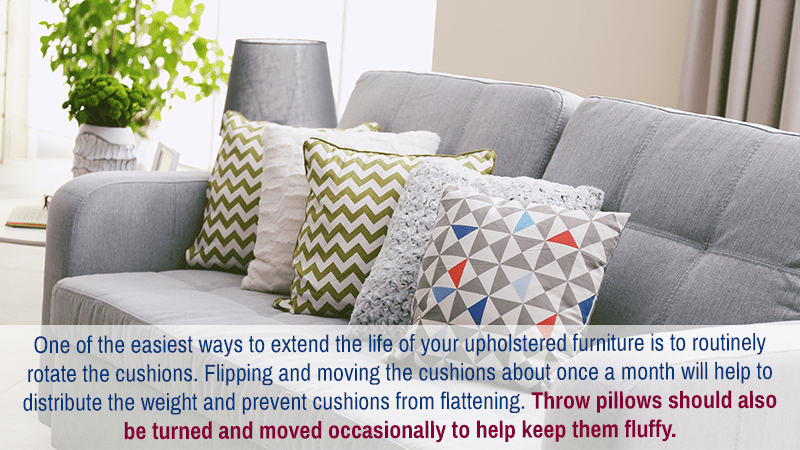 Keep Pet and Smoke Smells at Bay
The best way to prevent pet and smoke odors from absorbing into the upholstery is to prevent pets from getting on the furniture and not to smoke indoors. It's difficult to get the odor of smoke and pets from upholstery, but there are a few things you can do to have fresh smelling furniture again. Simply sprinkle baking soda on dry upholstery and allow it to sit for 1-2 hours and then vacuum, completely removing the baking soda. Using a steam cleaner will also help to lift pet and smoke stains from the upholstery. To help keep furniture smelling fresh, wipe the top of cushions with a fabric softener sheet and place a sheet or two under the cushions.
Rotate Cushions
One of the easiest ways to extend the life of your upholstered furniture is to routinely rotate the cushions. Flipping and moving the cushions about once a month will help to distribute the weight and prevent cushions from flattening. Throw pillows should also be turned and moved occasionally to help keep them fluffy.
Along with routine cleaning and maintenance, it's best to also have professional clean upholstered furniture once a year. Professional deep cleaning will help to remove deep down soil and odors as well as help to brighten colors and keep the furniture looking fresh and new.
To help keep your upholstered furniture looking its best, contact us at Chet's Cleaning Inc. We can help with all your cleaning needs!