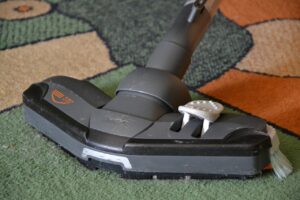 Visible vacuum lines just seem to make a clean house feel cleaner; especially with proper carpet cleaning.  With the right machine, your time spent vacuuming can feel like a zen moving meditation. Well, that might be an exaggeration, but a high-quality vacuum gets cleaner floors in a shorter time with less effort.
If the old, dusty upright you inherited from your grandmother belches out puffs of dust every time you change direction or surfaces, you could be spreading as much dust as you collect. And if changing the bag leaves a small pile of debris near the trashcan–why bother using it at all? Since you want gleaming, dust-free floors with less labor, maybe it is time to upgrade your machine.  Here are some things to consider:
Factors Affecting Your Needs
What is most important to you? Of course, you need the vacuum picks up maximin dirt with minimum debris remaining, but what is special about how you live? Consider:
How easy it is to maneuver

How noisy it is  

How many people live in your home

How many pets (with what type of hair) live in your home, are they both indoor and outdoor?

Do you live on, or have a driveway, of  dirt, gravel, crushed granite

How thick is the pile

Do you vacuum or mop smooth floors (tile, linoleum, wood, laminate)

How many, and what type, of stairs do you have

What is your budget
So what features do you require? A vacuum cleaner with a motorized brush cleans carpets better than one powered only by suction. A switch to deactivate the brush will help protect the finish of bare floors and avoid scattering debris.  
Do you want disposable bags or a reusable bin? Bags tend to hold more dust, but it's much harder to tell how full the bag is without removing it. Dust bins are transparent, making it easier to tell when they're full — and you can empty and reuse them countless times. You must replace the expensive filter, but less frequently than buying bags.
Upright Vacuums
The recognizable shape hasn't changed much since the turn of the century. Upright vacuums are still the most popular; the economics of the changing angled handle helps maneuverability. These full-sized vacuums perform better than their smaller counterparts and features and prices vary widely in this category (about $250-$700.)
This choice is a no brainer for single story homes; they offer a wide cleaning swath and perform best at deep-cleaning carpets. However, do you have space to store something tall that is convenient? They typically weigh more than other models, so you won't want it hidden in the back of a closet.
Canister Vacuums
Canister vacuums are a bit more versatile and better for stairs, you use the long wand extender to tackle each level with ease. They are lighter than uprights, but it is still up to 8 pounds. The long wands and cords get tangled more easily and might be more difficult to store.
Stick Vacuums
Halfway between a handheld and an upright, stick vacs offer the former's maneuverability and the cleaning power of the latter. Stick vacs are easy to store and lightweight. These models typically run on batteries, so they are flexible but less powerful–  suited for picking up surface litter not entire homes.
Check out the battery life, as it can vary from model to model. Also, check on the battery indicator- is the light accessible and easy to decipher?
Robotic Vacuums
Ranging from $300 to $900, robotic vacuums do the grunge work while you relax. In uncluttered rooms, a robotic can touch up between regular, manual vacuuming sessions. The better models can find their way out of tight spots and around extension cords. Some can even let you set schedules remotely and control the vacs like a remote-controlled car.
However, no robotic vacuum can match the deep cleaning you'll get from the best uprights and canisters  
Allergies and HEPA Filtration
HEPA stands for "High-Efficiency Particulate Air," and captures at least 99.97% of all particles at 0.3 microns. Household allergens average between one and ten microns. We recommend that allergy sufferers use only vacuums with HEPA filtration; it's guaranteed to trap virtually all household allergens.
Watch for Sales
Not only is the new machine expensive, so are the filters. Check online, on store circulars or sign up on manufacturer or retailer email lists to receive coupons and promotions. If you find a great deal online, see if your local store will price match.
Professional
Carpet Cleaning
Weekly vacuuming with a quality machine is the best way to maintain your carpets. Every year or so, have a competent and experienced team come into deep clean and sanitize with professional equipment. Chet's Cleaning takes every precaution to protect your home by using:
Hose stakes to protect your lawn and plants

Walk-off mats to protect your foyer

A door guard to keep unwanted pests out and to maintain the temperature in your home

Corner guards to protect the corners of your walls from chips and scratches

Moving blankets to protect your hard surface floors