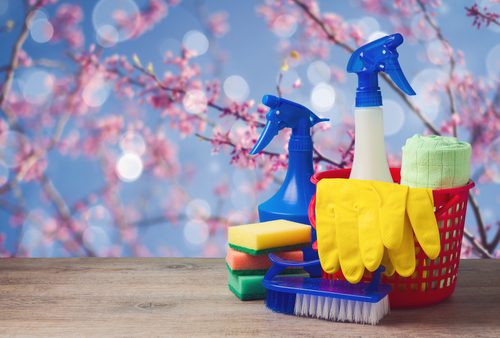 When spring finally starts to peek its head through, it's time to start thinking about more than just more sunshine. Spring is the perfect time to clean up your home and spring cleaning tips help get it spic and span from top to bottom. Make the most of this coming spring and find out what you can do to ensure your home gets the deep clean it needs.
1. Declutter First
Before you even attempt to clean up your house, start by decluttering first. The best way to do this is to tackle one room at a time. Start with two large bags: one to put things for goodwill and one for trash. Whatever you haven't used in the last two years is clutter you don't really need. You will find your home so much easier to clean once the clutter is gone. Remember to check the garage, bedrooms, closets – everywhere!
2. Clean the Windows
Start by removing your window coverings and get those windows shiny and clean. You'll need to clean the window frame and inside the tracks of the window, as well. You should try to have them professionally cleaned inside and out at least once per year and try to maintain them by cleaning again once yourself. Spring is the perfect time to clean the windows and remove the gunk that has accumulated over the winter. Once the windows are clean, clean your window treatments if you can. Wood and faux wood blinds and shades can be easily wiped with a damp cloth. Fabrics like sheer shades or drapes will need to be carefully vacuumed and spot treated, if necessary. You may want to consider hiring a professional service to adequately clean fabrics in your home once a year. They can get rid of the deep-down grime and dirt.
3. Dust Light Fixtures and fans
Light fixtures tend to be forgotten during the regular weekly cleaning. Spring is a great time to get rid of dust accumulation. You can check other hard-to-reach spots like above your door and window frames and in the corners of the ceiling. Dust can hide in these spots that we don't get to very often. We recommend vacuuming first and then using damp microfiber cloths to wipe away the rest of the dust.
4. Pull Out Appliances
You wouldn't believe how much dust gets caught up behind your stove, fridge, and your washer and dryer. Whatever you are able to pull out, you should displace so you can vacuum and mop. You'll also get a better look at what's going on back there so you can see if mold is growing or anything else that needs immediate attention. Wipe down and clean the back of these appliances while they are out.
5. Hire a Professional Cleaning Service
Spring cleaning tips are a great way to get started on some of the easier things, but hiring a professional cleaning service can get your home sparkling clean. And more importantly, it can free up your time, too. Professional cleaners can disinfect your home, clean rugs and draperies, clean upholstery, and get all the dirt caught behind appliances or in hard-to-reach areas. With the right equipment and products, professional cleaners can give your home a deeper clean than you can even imagine. Minimize the spreading of germs with an expert spring cleaning – Contact Chet's Cleaning today to see how we can help keep you and your family happy and healthy this spring.