Blinds Cleaning Process
We need to ascertain the items' integrity, age, possible sun damage, and proper operation. Sun and atmospheric contamination can degrade and weaken fabrics, so it is best for us to inspect the window treatments where they are installed. We also check their operation to see if repairs or adjustments need to be made.
Benefit: We wouldn't want to clean a shade or blind that is too weak to withstand cleaning.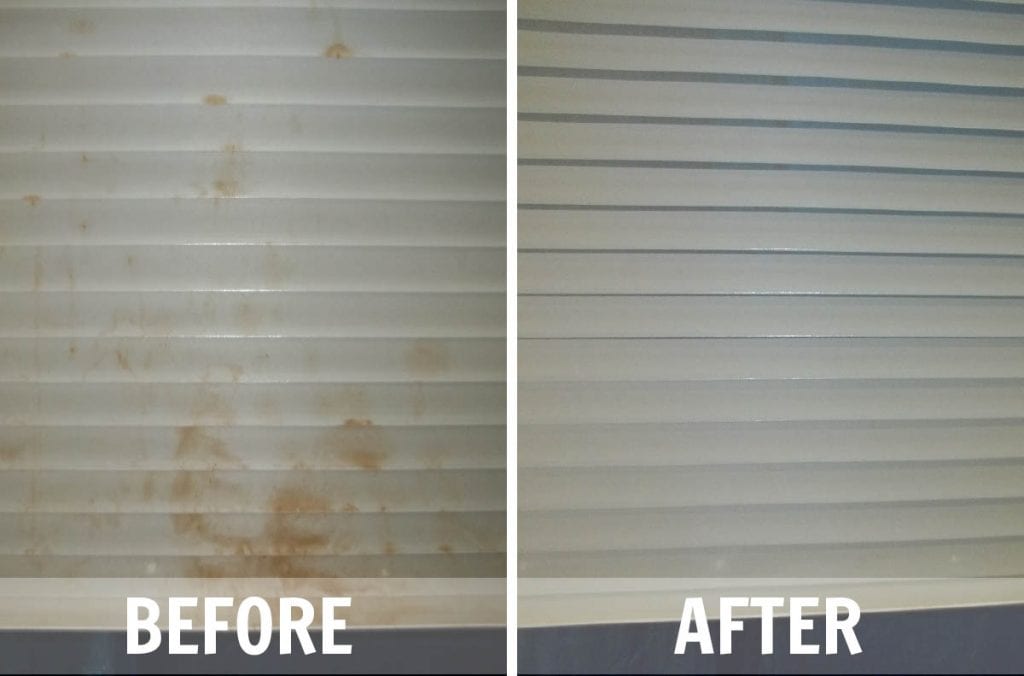 Every manufacturer uses different mounting hardware and methods for attaching them. Our experts are skilled at removing virtually all shades and blinds safely. Some brackets are made of plastic and have become brittle with age, we carry all the major brands of brackets so we can reinstall them properly.
Benefit: Improper removal can damage the brackets or even the shades themselves.
We carefully package all types of shades so they are safe while being transported. We have developed some of our own packaging methods because it is so important.
Benefit: Many shades are permanently damaged and distorted when improperly handled. Luminette shades should never be removed without proper packaging to store them in.
Our expert cleaning technicians have many years of experience, the best cleaning solutions, and state-of-the-art equipment to ensure the most thoroughly cleaned blinds and shades. We have developed some of the gentlest and most effective cleaning methods available anywhere.
Benefit: Improper cleaning will damage shades or leave unsightly soil behind.
We have developed packaging systems to ensure that your blinds and shades can be stored or transported safely.
Benefit: Proper storage ensures that the shades are wrinkle-free and the painted metal headrails and components are never scratched or damaged.
There is no charge for the first month, but we can store your window treatments as long as are needed for remodeling and restoration projects.
Our experts can install virtually any brand or style of shade or blind. We also carry most of the name-brand components and brackets so we can get your shades installed and working properly. We will check the operation of each shade to ensure that it is functioning properly.
Benefit: Shade components can become brittle or worn with age. We have the expertise to adjust and repair most concerns on site. If you try to take down or reinstall shades yourself, you can spend a long time trying and possibly damage the brackets or the shade itself.
Additional Options
Repairs
We perform minor repairs at no cost. If repairs are more extensive we will call with a quote. We perform many repairs and carry common installation hardware, blind, and shade parts on our truck. If we can't repair it, we have the resources to get most repairs done.
Alternations
We have the resources to alter many window treatments. Just ask and we will let you know if it is possible.
Sun Damage
We cannot guarantee against sun damage. We thoroughly inspect for weak and deteriorated fibers prior to cleaning and will inform you of the risk. Thermal and laminated fabrics are prone to flaking and peeling.