Blinds and Shades
We have been cleaning blinds and shades since Hunter Douglas, Graber, Kirsch, Levolor, and others started developing all the latest shades and styles. We have developed state-of-the-art systems and procedures for safe removal, transportation, and the most thorough and safe methods of cleaning them. We have cleaned more silhouettes and Luminette shades than anyone and we have thousands of delighted clients to show for it.
Although we can clean many treatments while they are still on the window, we almost always prefer to remove and clean them in our state-of-the-art facility. This is very beneficial when painting, getting new windows or doing any remodeling projects. We can store them until your project is done.
STEP 1: Inspection
We need to ascertain the items' integrity, age, possible sun damage, and proper operation. Sun and atmospheric contamination can degrade and weaken fabrics, so it is best for us to inspect the window treatments where they are installed. We also check their operation to see if repairs or adjustments need to be made.
Benefit: We wouldn't want to clean a shade or blind that is too weak to withstand cleaning.
STEP 2: Safe Removal
Every manufacturer uses different mounting hardware and methods for attaching them. Our experts are skilled at removing virtually all shades and blinds safely. Some brackets are made of plastic and have become brittle with age, we carry all the major brands of brackets so we can reinstall them properly.
Benefit: Improper removal can damage the brackets or even the shades themselves.
STEP 3: Proper Packaging
We carefully package all types of shades so they are safe while being transported. We have developed some of our own packaging methods because it is so important.
Benefit: Many shades are permanently damaged and distorted when improperly handled. Luminette shades should never be removed without proper packaging to store them in.
STEP 4: Cleaning
Our expert cleaning technicians have many years of experience, the best cleaning solutions, and state of the art equipment to ensure the most thoroughly cleaned blinds and shades. We have developed some of the gentlest and effective cleaning methods available anywhere.
Benefit: Improper cleaning will damage shades or leave unsightly soil behind.
STEP 5: Packaging
We have developed packaging systems to ensure that your blinds and shades can be stored or transported safely.
Benefit: Proper storage ensures that the shades are wrinkle free and the painted metal headrails and components are never scratched or damaged.
Optional Storage
There is not a charge for the first month, but we can store your window treatments as long as is needed for remodeling and restoration projects.
STEP 6: Re-Hanging
Our experts can install virtually any brand or style of shade or blind. We also carry most of the name brand components and brackets so we can get your shades installed and working properly. We will check the operation of each shade to ensure that it is functioning properly.
Benefit: Shade components can become brittle or worn with age. We have the expertise to adjust and repair most concerns on site. If you try to take down or reinstall shades yourself, you can spend a long time trying and possibly damage the brackets or the shade itself.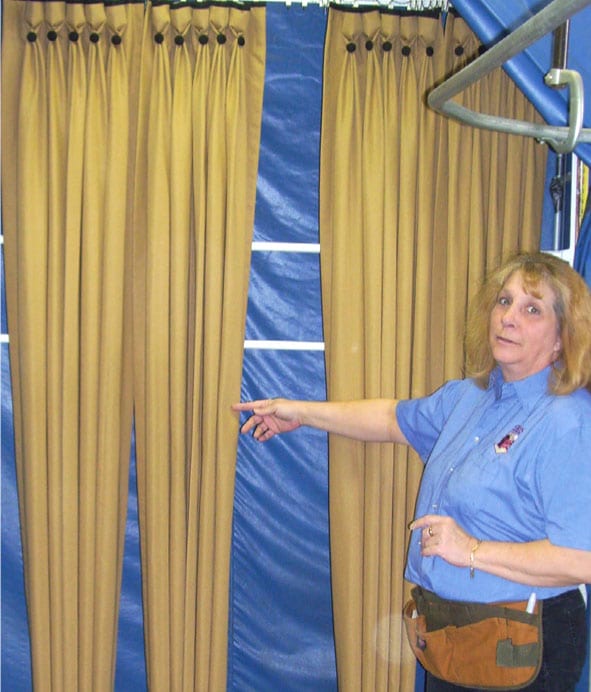 Repairs
We perform minor repairs at no cost. If repairs are more extensive we will call with a quote. We perform many repairs and carry common installation hardware, blind, and shade parts on our truck. If we can't repair it, we have the resources to get most repairs done.
Alterations
We have the resources to alter many window treatments. Just ask and we will let you know if it is possible.
Sun Damage
We cannot guarantee against sun damage. We thoroughly inspect for weak and deteriorated fibers prior to cleaning and will inform you of the risk. Thermal and laminated fabrics are prone to flaking and peeling.
We have been expertly cleaning and re-hanging draperies for over 35 years. Draperies take special skills and care during the cleaning and pressing process but also take highly skilled craftsmen to properly re-hang them. We dress them down with steam and make them look beautiful again. Most of our clients say they hang better than when they were new. We have cleaned and re-hung some of the most intricate draperies you could imagine.
We are experts at stain removal from some of the most difficult and delicate fabrics. We also do restoration of smoke-damaged draperies and other household items.
Critical Questions to Ask When Selecting the Right Drapery Cleaner
Do they have the expertise to safely clean all window treatments?
Do they use a professional drapery installer to remove and rehang your treatments?
Do they guarantee that they will hang as good as new?
Do they have a measured process to reduce shrinkage?
Do they use steam when rehanging to give your articles that beautiful look and feel?
Do they take pictures to ensure that intricate treatments hang exactly the way they did when they were new?
Are they able to perform repairs on your treatments and hardware?
Recognized Specialists
We professionally clean all window treatments in our own dry cleaning plant; or on location as necessary. This long-established specialty of ours was designed exclusively for window treatments and includes:
Draperies
Curtains
Sheers
Cornice Boards
Scarves
Verticals
Custom Shades
Mini-Blinds
Duettes-Pleated Shades
Silhouettes
Luminettes
Chet's can effectively clean all window treatments. We specialize in the care of intricate and custom-made drapes and curtains. In fact, spots and stains that other cleaners ignore can be removed by us. We can also clean lampshades, duvets, bed skirts, and fabric accessories.
STEP 1: Inspection & Quote
Inspect your window treatments for soiling, stains, sun damage, and shrinkage.
Measure length, make drawings and take pictures (on intricate treatments).
Give you an exact quote.
Remove the window treatments properly. (We prefer that your treatments be left up so we can thoroughly inspect the drapery and all related hardware).
Carefully package them for transporting
Many of today's window treatments need to be partially dismantled before cleaning. We have the expertise to ensure that your treatments will be reassembled properly. This comes from many years of making draperies and window treatments.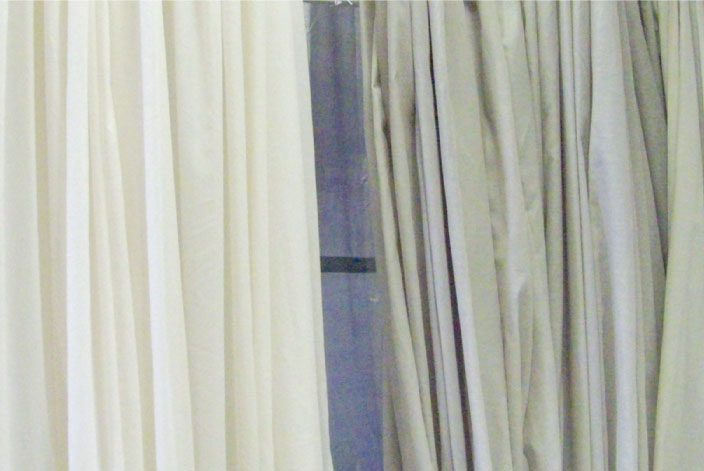 STEP 2: Cleaning
Your treatments will be professionally assessed as to which cleaning system to use. We will pre-spot and pre-treat as necessary.
STEP 3: Pressing and Finishing
Our highly skilled cleaning and finishing technicians use years of experience to put a finish on your fabrics that make them look and feel like new.
STEP 4: Packaged for Delivery
We carefully package all goods to protect against creases and wrinkles.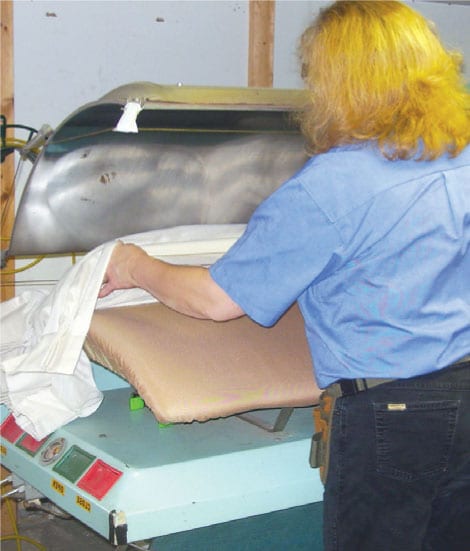 Drapery and Dry Cleaning
Our custom dry-cleaning machine is programmed for thorough yet gentle cleaning. It also puts sizing into the fabrics to give them that new feel.
Our solvent is highly maintained to ensure that whites stay white.
Sheers and Washable Goods
Our computer-controlled washer is also programmed for thorough yet gentle cleaning. The process also adds sizing into the material, an agent that helps preserve the shape and form.
Instead of using a dryer, which can cause damage to sensitive fabrics, we drip dry all washable fabrics.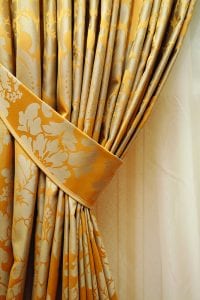 Other Services Available
Flame Retardant
UV Protection
Pre-Shrink Linings & Fabrics