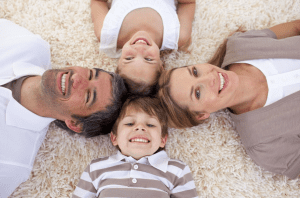 Carpet is the most highly trafficked furnishing in our homes. Our carpet is constantly being walked on, laid on, sat on, and spilled on. It is exposed to dirt and contaminants on a daily basis, from pets, shoes, food, drinks, etc. It is no wonder that carpet accumulates not only general wear and tear, but also dirt, soil, dust, and other potentially harmful bacteria and contaminants. The EPA declares carpets, rugs, and other soft surfaces as a 'health hazard' if not properly cleaned on a regular basis. They recommend carpets be vacuumed once a week, and professionally cleaned every 6-18 months to eliminate these hazards, extend the life of your carpet, and keep it looking its best.
Benefits of Professional Carpet Cleaning
Professional carpet cleaners, like the team at Chet's Cleaning, ensure that allergens, mold, bacteria, microorganisms, and soil are thoroughly removed from your carpets. Over time, dirt, dust, and allergens will accumulate in your carpet and get embedded in its fibers. Vacuuming only removes surface dirt, so all the debris that has become embedded in your carpet remains there. Some of these allergens may build-up to the point that they begin to contaminate the air you breathe. When these contaminants find their way into the air, they can cause respiratory problems and allergic reactions. Professional carpet cleaners are able to kill these allergens and remove them from your home so they are no longer a health threat. With the use of professional equipment, they can get your carpets fully cleaned and sanitized.
Carpets are made up of tightly twisted tufts of fibers. When dirt accumulates on these fibers, it can weaken and damage them. When you combine this with the foot traffic carpets sustain, there is some serious wear and tear that can harm your carpet if dirt is not fully removed. This will begin to give your carpet a dull appearance, and will eventually cause the fibers to split and deteriorate. Removing this debris will help improve the look and appearance of your carpet while extending the longevity of your carpet. Carpet is not cheap and you want to make sure it lasts aesthetically and functionally. Trying to deep clean carpets on your own increases the risk of damaging carpet fibers. Loosening and weakening these fibers will greatly decrease the lifespan of your carpet, which will end up costing more money in the long haul. Regular professional carpet cleaning will prolong the beauty and life of your carpets, without any risk of damage to carpet fibers.
Chet's Cleaning is Always by Your Side
When it comes time to get your carpets professionally cleaned, be sure to choose a company that is certified by IICRC and follows the guidelines for professional cleaning. Improper cleaning leads to damaged carpets and can leave behind a residue that will actually make carpets get dirtier quicker. At Chet's Cleaning, we value quality service and quality results. We not only follow industry standards when it comes to carpet cleaning, but we also exceed them. We have a clear step-by-step cleaning process that assures you clean, beautiful, and resilient carpets, as well as a healthy home. We employ the finest equipment and solutions, and our technicians are highly trained and motivated to provide superior results. Chet's carpet cleaning will prolong the beauty and life of your carpet, all while preventing extreme soiling that can endanger the health of your carpets and your family. For all your carpet cleaning needs in the Detroit metro area, let Chet's Cleaning take care of you.