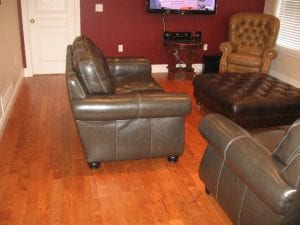 Leather furniture is always popular thanks to its beauty and durability. It's also a more expensive choice than some fabrics, like microfiber, and an investment well worth protecting. Inbetween professional cleanings by Chet's Cleaning, the Institute of Inspection Cleaning and Restoration Certification offers some tips on things you can do to help your leather furniture maintain its look, durability, and silky smooth feel.
Dust and vacuum your furniture. This is something common to do with upholstered furniture, but your leather furniture needs this attention, too. Vacuum every nook and cranny to be sure any dirt or other debris has been picked up. Believe it or not, something as simple as trash being stuck to cushions could do damage to the leather. Plus, the next time you go to wipe up a spill, you don't need to worry a spot of dirt or debris will scratch the surface in the process.
Spot Clean. Now, there are some words of warning here. First of all, make sure you are using a cleaner that will not damage the leather. Test it in a small, hidden area first to make sure the cleaner does not cause discoloration or other problems. The IICRC suggests using saddle soap and rubbing it gently into the surface with a soft, damp cloth. This process should help restore the leather's luster in areas where it has become a bit dull in between professional cleaning and conditioning.
Think about your pets. If you have pets that you allow on your furniture, we don't blame you! After all, pets are part of the family! However, to protect your furniture investment, we suggest placing a blanket or towel on the area where they typically lay to prevent them from doing damage. One prick of a claw could mean a major gash in your beautiful leather. Plus, the towel or blanket will catch any dander or fur that would otherwise get trapped in the furniture. Wash that towel or blanket regularly, and soon your pet will realize it's their own special place – and your furniture will be much more protected.
Beware of conditioning too often. The IICRC says conditioning is not always necessary, and should not be done more than once or twice a year, depending on the furniture's exposure to sunlight and wear and tear. Certain conditioners could leave an oily or sticky residue on your furniture that is difficult to remove. Keep in mind, conditioning is different than cleaning which can certainly be done more often!
Hiring Professional Furniture Cleaners
Now, there are times when you should truly bring in a professional cleaning company to do the job. For example, if you have a tough stain on your leather sofa, scrubbing the material could permanently damage the surface. Plus, if you aren't sure if a solution you've chosen for spot cleaning will work, then trust your gut. Professional furniture cleaners, like Chet's Cleaning, have decades of experience under their belts working with all different textiles and leather. That means we have an arsenal of products that will work for your unique furniture and are knowledgeable on the cleaning process.