If you've invested in some stylish draperies, roman shades or silhouette blinds, then you want them looking their best all the time, right? Of course, you do! Luckily, it can be super simple to clean and maintain your window treatments and keep them looking newer, longer. Here are our best tips for cleaning different types of window treatments.
Faux Wood, Sheer Shades and Vinyl Window Treatments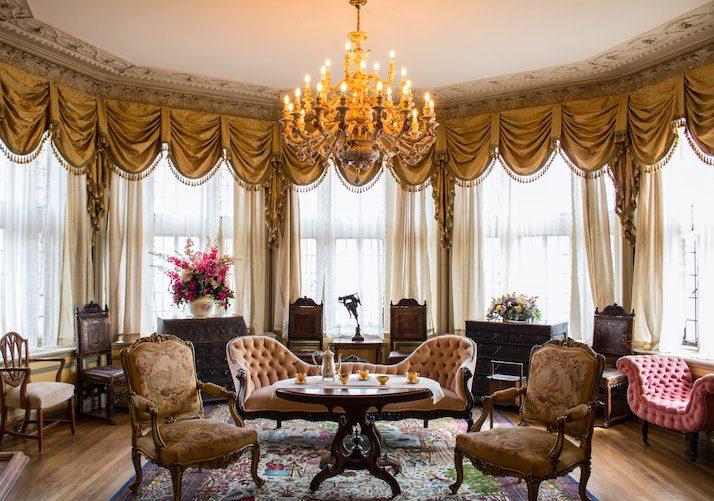 Faux wood and vinyl window treatments are among the easiest to clean and maintain. These surfaces have a plastic finish and clean super easily with a microfiber cloth and warm water. Using the wrong products can actually damage your window treatments. If you really have a stubborn stain that won't budge, use some dish soap mixed in warm water and it should come right out.
Roman & Sheer Shades
Luminette, Silhouette, Duette, etc…
To keep these shades looking great, get the gentle brush attachment on your vacuum cleaner and gently suck up dust from the fabric as often as possible. When bugs get stuck in the pleats you can use a hairdryer on the cool setting, if they are stuck you can gently flick them loose with your finger and try to blow them out to the ends. This will prevent dust buildup and stains. The delicate fabrics on these shades can be tough to clean if they get stained with other products like juice or sauce. Try not to place these kinds of shades in rooms that see lots of stains, like the kitchen. If they do get stained, spot treat the fabric with laundry stain remover and gently dab the stain away. Never rub as this can damage the material.
If you have a really stubborn stain that won't budge, don't start scrubbing. Instead, consider calling professional cleaning services. The best cleaning companies can help you get rid of even the deepest stains without damaging your window treatments in the process.
Never take down Luminetter shades and lay them down, they will get permanently wrinkled! We have special packaging if they need to be removed for painting or other remodeling projects.
Woven or Bamboo Shades
These shades are made from natural bamboo pieces so they are both durable and sustainable. To keep them clean, wipe them down with a warm microfiber cloth as often as practical, and be sure to vacuum them on both sides using the gentle vacuum attachment. Avoid harsh cleaners as they can be very damaging to the delicate wooden fibers.
Genuine Wood Window Treatments
Real wood can also be wiped down with a warm microfiber cloth. If you do this regularly, you will avoid dust buildup. If they do get a little grimy because they're in the kitchen or bathroom, then you may use some real wood cleaner sparingly. This can revitalize the sine and clean off any unsightly rubbish.
Fabric Window Treatments
Draperies, Sheers and Other Custom Treatments
Anything made of fabric should be treated like delicate fabric clothing, most drapery fabrics are dry clean only and should only be cleaned by an experienced drapery cleaner. Unless you know for certain what the fabric is made out of and after testing in an inconspicuous area, don't even try to spot clean because you can leave a permanent ring. You can vacuum fabric window treatments with the gentlest attachment to your vacuum.
Get Your Window Treatments Professionally Cleaned
It's highly recommended to keep your window treatments clean at all times. This means cleaning and dusting them as often as practical is a great idea. However, it's a really good idea to call in a professional cleaning service before they look soiled, this can be yearly for treatments in a kitchen and up to 4 or 5 years for other areas. Just remember dark filtration or another soiling will become permanent unless addressed soon enough. With the ability of their specialized equipment and the right cleaning products for each fabric, professional cleaning services can really get the accumulated dirt and grime off your window treatments. If you have invested in expensive drapes or shades, you want to get the most out of your investment. Keeping your window treatments clean and protecting them from staining is a great way to make the most of your investment. Contact Chet's Cleaning today to find out how we can help you care for your gorgeous new window treatments properly. We specialize in a range of window cleaning services.